Overview of the Industry
Trajectory of the Market
Industry Definition
The equipment rental industry supplies rental equipment such as cranes, earthmovers, bulldozers, lifters, excavators, diggers, etc. for various purposes such as construction, transportation, mining, oil and gas machinery and forestry machinery. It also performs logistics and warehousing for light and heavy equipment. Other operations of the industry involve providing machinery operators to contractors, and equipment repair and maintenance.
Revenue Projections
The equipment rental industry is a significant contributor to the US economy with a current revenue of $37.43 billion in 2020-21 and a projected revenue of $42.6 billion in the year 2024. This estimation is inclusive of short term rental and leasing projects, indicating a promising growth of overall equipment rental operations.
Valuation
According to Global Market Insights, the major demand in the equipment rental industry is driven by government and private sector activities on public and private infrastructure projects.
The government is in need of equipment rental for the construction and refurbishment of roads, highways, airports, metro stations and stadiums. In the private sector, general contractors and subcontractors are driving the industrial growth.
Along with the aforementioned factors and the surge in strategic collaboration & partnerships amongst equipment rental services, the entire market valuation is estimated to cross $170 billion in the year 2026.
Key Growth Factors in the US and Europe
The OEM's technological advancement in recent years has been the major factor in driving the growth of the equipment rental industry. Some other key factors include:
The expansion of fleet size by incumbents and key players of the construction industry to address the increasing equipment rental demand for various construction purposes.
Growth in mining and construction activities, especially in developing economies and the infrastructure improvement in developed economies.
The emergence of smart city development projects in European countries and huge capitalization and investment by government bodies.
Earthmoving machinery, such as excavators, bulldozers and loaders leading the global construction equipment rental market in 2019.
The introduction of LEED (Leadership in Energy and Environmental Design) certified electric construction machinery in the rental industry with capabilities to reduce carbon footprints.
Construction businesses realizing the benefits of rental over purchasing in terms of initial asset costs and elimination of the financing pay off tenure.
The highly cyclical nature of the construction industry, resulting in buoyancy with the overall economy growth and fall with slowdown
Companies suspecting and bracing themselves for economic recession also favoring rental over purchasing.
Trends & The COVID-19 Effect
The COVID-19 economic recession adversely affected the equipment rental industry with an unprecedented pause in all construction and mining activities. The sudden halt came in the March of 2020 and gradually receded from the beginning of June 2020 with certain precautionary restrictions. Till then, both public and private contractors followed strict stay-at-home mandates.
When the activities resumed, the following practices and trends emerged in the market.
Increased Preference for Automation
The fear of COVID-19 infection resulted in reduced workforce participation. Contractors who resumed projects faced the challenge of finding skilled technicians. Compliance with COVID precautions and deploying more attention towards the safety of the workforce resulted in interrupted workflow and a drop in overall productivity. As a consequence, large-scale preference towards automation manifested in the industry.
Moreover, automation offered several benefits, such as increased productivity, reduced danger to life, curbed spread of infection and low workforce requirements. All these benefits increased the demand for driverless vehicles, IoT solutions, drones, surface finishing machines, welding robots, etc.
Better Efforts Towards Sustainability
Increasing global awareness on environmental concerns and high emissions of heavy equipment machinery persuaded governments and private contractors to pay attention towards sustainability. This led to the rise of fuel-efficient and environment friendly green machines that reduce the environmental risks in construction activities.
Vehicles and equipment that emit less smoke ensure contractors greater work efficiency and curb carbon emissions immensely. Other benefits that increased the demand for sustainable equipment in the equipment rental industry are reduced strain on local resources, low operational costs, low maintenance costs, and increased efficiency in indoor spaces.
Introduction of Electric Vehicles
Consequent to the above-mentioned trend is the rise of electric vehicles and similar equipment in the equipment rental industry. Electric vehicles use computerized systems and are eco-friendly. Their electronic engines are enhanced to emulate similar horsepower as their fuel-based variants and AI enables higher work efficiency.
Electric machines have also been granted LEED certification, indicating a promising growth in the equipment rental industry. Some major equipment manufacturers introducing new models of electric machinery in the equipment industry are Liebherr, Volvo and JCB.
Digitization in Trade and Commerce
Equipment rental services are going green with paperless management of trade and commerce. Along with automation and time efficiency, digitization provides cloud storage facilities with capability to save and transfer hoards of data in a few seconds. Digitization not only decreases the expenditure on manual labour but increases overall productivity with accurate analysis.
Advanced features of equipment rental software like inventory management, sales management, tax management, logistics, and invoicing streamline the various internal processes of an equipment rental company. Several digitization solutions provide digital storefronts and payment gateways for conducting online rental operations.
Take the Next Step to Digitization in the Equipment Rental Industry.
Explore Now
Existing Players and New Entrants in the Industry
Competitive Landscape of the Equipment Rental Industry
The current equipment rental industry is characterized by various incumbents and new entrants, making the industry highly fragmented. As leading players are beginning to invest and setting up rental units in various regional markets, the scope of the industry is realized to global enthusiasts, resulting in the entry of many promising startups.
The following graphic depicts the leading players and new entrants in the equipment rental industry:
Technological Advancements in the Industry
3D Printing for Prototyping and Modelling
3D printing technologies are a major technological advancement of the past two decades. They have been proved feasible for prototyping and modelling purposes in the construction industry. In their long evolution, 3D printers have been made to process cement, sand and metals for modelling and creating components that can be later used to scale life-size models. Dubai Municipality Office building and Office of the Future are significantly impressive accomplishments of the advancement that have been entirely built by using 3D printing technology. The former of two is also the world's largest 3D printed building.
Some benefits of 3D printing in construction are lower waste production, lower workforce participation, lower threat to life, faster production, reduced cost expenditure, construction accuracy and effectiveness at constructing innovative architectural designs.
AR/VR Technology for Conducting Remote Operations and Training
The benefits of Augmented Reality (AR) and Virtual Reality (VR) in the equipment and construction industry are no longer concealed. The technology assists in reducing training costs by stimulating an environment required for pre-jobsite training.
In November 2019, Sany Heavy Industry Co, a Chinese heavy equipment manufacturer also demonstrated the feasibility of AR/VR technology in remotely controlling construction work from thousands of miles away with its VR controlled excavators and diggers. Martin Lehner, the CEO of Wacker Neuson, a German compaction equipment manufacturing company, claimed the efficiency of AR/VR technology in early stage equipment testing.
Other benefits for which AR/VR is making headlines in the equipment industry include its application for error detection, collaboration enhancing and improving safety standards.
Internet of Things (IoT) for Streamlining Work Processes
Advancements in internet technology, such as access to 5G bandwidths has substantially increased the benefits of IoT technology in the equipment industry. IoT basically creates a smart platform for various internet powered devices to communicate with each other effortlessly.
This results in streamlined internal processes and increased productivity with the elimination of manual work. The major benefit of IoT at construction and mining job sites relies on its ability to detect errors and malfunctions, and send maintenance alerts.
Applications of IoT increase overall safety and security levels, enable prompt real-time actions and result in maximum utilization of sensors and cloud technology.
Robotics for Automation Purposes
Construction robots in the equipment industry are effortlessly automating the processes once done manually. Their biggest advantage has been witnessed in the demolition projects, where they can help contractors avoid any loss of life.
Similar to demolition robots, there has been an increase in the application of robotics for brick laying and welding purposes. SAM (Semi-Automated Mason), a brick-laying robot manufactured by Tech Xplore, a New York-based construction robotics company, can arrange up to 3,000 bricks per day, which is 600% more than the capacity of an average human worker. Arc welding robots by ABB and Motoman are proven to have much more efficiency than their human counterparts and are already available in retail in the market.
Another robotic technology that is widely being used for aerial surveillance purposes is commercial drones. Some benefits of using robotics in the construction industry are increased productivity, reduced wastage, better maneuverability, better precision and reduced human error.
Machine Learning and AI for Computation and Analysis
Machine learning is powering various hardware technologies in the ecommerce industry. Its application can be seen in pretty much all aforementioned technologies. However, its standalone benefits cannot be neglected.
Machine learning technology and AI models are useful for productivity analysis, developing 3D models, detecting errors, preventing cost overruns, risk mitigation, project management and running various backend processes. AI technology makes the processing of big data, collected by drones, sensors and other surveillance technology possible. It can also be used to store structural information post-construction and mitigate structural problems at a later period.
AI job scheduling shortens the length of construction projects and improves the overall work efficiency. Apart from these, machine learning and AI also assist in identifying and resolving malfunctions in real time.
Operations and Working of an Equipment Rental Business
Types of Businesses in the Equipment Rental Industry
The equipment rental industry is characterized by various types of businesses like B2B, B2C, P2P, single-vendor and multi-vendor marketplaces. Within these market segments, there is more diversity. This heterogeneity of existing business demonstrates the scope for the entrance of new and innovative businesses in the industry.
Operations an Equipment Rental Business Performs
Despite the differences, the key operations in the industry almost remain the same for every type of equipment rental business. Such operations are discussed below:
Rental Equipment Supply
Equipment rental businesses supply light and heavy equipment for various purposes like construction, mining, compacting, demolition, oil and gas machinery, forestry machinery, etc. Every business has specific markets for supplying these equipment.
Logistics
Logistics in the equipment rental industry include warehousing, inventory management, shipping, tracking and paperwork clearance. Single-vendor businesses might need to establish their supply chain communities and maintain them. Asset-light marketplace and P2P businesses may or may not involve logistics depending on the offered services.
Maintenance and Repair
Single-vendor businesses performing warehousing operations are also required to perform maintenance and repair works for their equipment. Multi-vendor businesses may be required to do the same if they offer warehousing services to their vendors. However, an exception could be made to this point depending on the service agreements between the marketplace owner and vendor.
Executive Operations
Executive operations for equipment rental businesses involve business planning, forming office policies, establishing and maintaining partnerships, managing teamwork and command of chain, handling promotions, participating in external affairs and monitoring business progress.
Financial Operations
Equipment rental businesses are required to perform a number of financial operations such as pricing, budgeting, payroll, taxes, preparation and revision of financial reports, preparation of financial terms, resource management, asset management and credit management.
Office Functions
Office functions for equipment rental businesses involve clerical work like data collection, data entry, business analytics, intra-business communications, etc. ecommerce businesses and marketplaces automate the majority of office functions with the help of a rental software.
Marketing
Marketing involves forming various strategies for branding and business promotions. It also involves managing public relations and online reputation. For online equipment rental businesses, marketing operations are concentrated on digital marketing and online reputation management (ORM).
Customer Support
Equipment rental businesses are responsible for providing support services to their customers. Multi-vendor businesses are also required to provide similar services to vendors & users. However, outsourcing customer support operations is also a popular option in the equipment rental industry.
Business Model Canvas
Note: The attributes mentioned in the business model canvas are not applicable to all equipment rental businesses. The actual business model canvas may vary from business to business.
How to Start an Equipment Rental Business
Launching an equipment rental business will require thorough preparation including market analysis, document preparation, supply chain establishment, and many more. Read below to understand these steps in detail.
Study the Market
Market analysis can be conducted for a number of research perspectives. They require a researcher to define purpose and goals beforehand. An equipment rental B2B business is advised to include the following in the research:
Consumer demand and market trends in subject regions
Buyer personas and equipment use cases
Size of the market and contribution of SMBs, mid-scale and large-scale enterprises
Competition analysis and value proposition analysis
Market challenges and stratified PESTLE analysis for every state or region
Inflation rates and pricing mechanics
Accessibility of supply chain and other resources
Government and private sector participation in construction, mining or forestry activities
Transportation and logistic infrastructure of the location
The aforementioned goals will assist the researcher in ascertaining the scope of business and finding the most profitable market regions.
Businesses can use the following types of research strategies to conduct their market research:
Quantitative Strategies
Quantitative research strategies assist in the collection of numerical data that can be illustrated via statistical tools and methods. These strategies are used when we need measurable results to establish patterns, numbers and market dynamics. Quantitative research results are objective, traceable and can be replicated. They are consistent when conducting research on the same variables within a short time span.
List of Quantitative research methods:
Market surveys
Face-to-face interviews
Observations
Polls
Data sampling
Deductive reasoning
Qualitative Strategies
Qualitative research strategies are used to understand phenomena and reveal underlying value. They are used to discover reasons, motivations, underlying causes, opinions, rationals and justifications behind various consumer behaviors and trends. Qualitative strategies are essential to find aims that cannot be interpreted in numerical values. Their results are subjective, inconsistent and demonstrate subject complexity.
List of Quantitative research methods:
Group discussions
Literature reviews
Inductive reasoning
Self-participation campaigns
Prepare a Budget
A one-year budget helps entrepreneurs in making correct estimations about startup expenses. This reduces the risk of over-expenditure while adequately allocating resources to essential and non-essential operations.
The one-year budget should prioritize resources for infrastructure and inventory that consume the majority of monetary resources. Similar to the inventory, costs for providing services like equipment repair, delivery and customer support should be also accounted into the budget.
After analyzing the expenditure on infrastructure, products and services, the business owner can classify one-time and recurring expenses. Some of the one-time expenses that an equipment rental business may incur are trademarks registration, office renovation, partnership and business licensing costs. Recurring expenses, on the other hand include salaries, utility bills, insurance premiums, servicing and maintenance, marketing and branding costs, and software subscriptions.
Rationally, it is difficult to strictly follow a startup budget. Equipment rental businesses may include a 10-15% margin for any overhead expenses.
Get the Paperwork Done
The paperwork for equipment rental businesses ranges from licenses to financial agreements, investor agreements, partnership documents, business insurance, trademarks, compliance certifications, initial policies and bank statements. Not all of the aforementioned paperwork is mandatory for all equipment rental businesses and the requirement can vary depending on various factors such as state jurisdiction, company size, etc.
Filling the paperwork on time can have the following benefits:
Conformity to state and federal rules and regulations
Legal protection from government
Protection from partnership lawsuits
Validation of trademarks
Credibility boost for funding and various other purposes
Eligibility to various tax schemes and government benefits
Eligibility for various trade groups and organizations
Assisted and uncomplicated entrance into foreign markets
Industrial acknowledgement
Establish the Supply Chain
Supply chain establishment is essential for all types of businesses dealing with the supply of physical goods. An effective supply chain model improves the entire order fulfillment process and assists in reducing expenses. On the other hand, not binding to a well-defined supply chain model leads to consequences like drop in order fulfillment rates, overhead costs, unmet deadlines, supplier disputes, and reduced customer satisfaction and retention rates.
Gaining an in-depth knowledge of how the equipment rental industry operates in the targeted geographical region and maintaining important business relations at an early stage will assist an entrepreneur in setting up an operable supply chain.
Read below to know how an equipment rental business can establish its supply chain from scratch.
Conduct an Inventory Requirement Assessment
This includes the types of equipment, their quantity, sizes and variants. Based on consumer demand, the business owner can select the most profitable brands and any add-on products. Preparing the list in excel format (.xls or .xlsx) is useful as it will assist the owner in importing the data in a third-party inventory management software.
Supplier Selection
Get quotations for the required inventory from multiple suppliers. The business owner may be required to break down the inventory list to get all equipment at the best price possible.
Set up Warehouses
Warehousing services are easily available in modern towns and cities. A business owner can opt for them or set his own property for warehousing. Other options include renting or buying a warehouse and opting for a shared warehousing facility.
Select Transportation and Delivery Options
For equipment like cranes, bulldozers, backhoes and excavators, self-transportation is the most reliable option for equipment rental businesses. For this, the business may need to hire drivers and equipment operators. Smaller handheld equipment and add-on equipment such as safety gloves and helmet can be delivered by a third-party service or trucking company.
Note: The aforementioned steps may not be applicable on multi-vendor marketplaces that are based on an asset-light business model, requiring least possible investment and sources from the business owner.
Return
Return, either at the end of the rental duration or due to faulty equipment, should be handled by the business itself when dealing with cranes, bulldozers and similar equipment. Smaller equipment can be either returned by the customer via carrier or the business owner can facilitate the return himself.
Set up Infrastructure and Human Resources
The infrastructure mainly involves an office, workstations, internet connection, security, elevators, etc. Obviously all this can be avoided by renting shared working spaces or a fully-furnished office.
The business owner also might need to buy or rent trucks for delivery or look out for warehouses as mentioned above in the section 'Establish the Supply Chain.'
Finding human resources for a startup equipment rental company can be challenging. Following are some of the ways to address the challenges:
Recruit managers with experience in working with startup companies
Take assistance from a professional human resource firm for C-level hiring
Hire virtual assistants for administrative work such as accounting, scheduling meetings and social media management
Use readymade construction equipment rental software for automation and reducing salary expenditure on software developers
Use an employee referral program to find like-minded employees
Collaborate with manpower companies for finding machine operators, warehouse keepers and security professionals
Start Business Operations and Marketing
After the equipment rental business has been set up, getting the first few bookings may seem difficult. Breaking this barrier will require strategic branding and marketing with precise implementation. Having said that, a proper start with observant result-driven marketing ensures quick transformation of a small size business to a midsize business.
Refer to the 'Marketing an Equipment Rental Business' for detailed information on marketing.
Streamlining Equipment Rental Operations With Rental Software
Standing up to the competition will require the business owner to adapt the modern practices and technologies that will streamline the entire rental process. The usage of equipment rental software for this purpose and automation is highly recommended.
Operations streamlining will have several benefits as laid down below.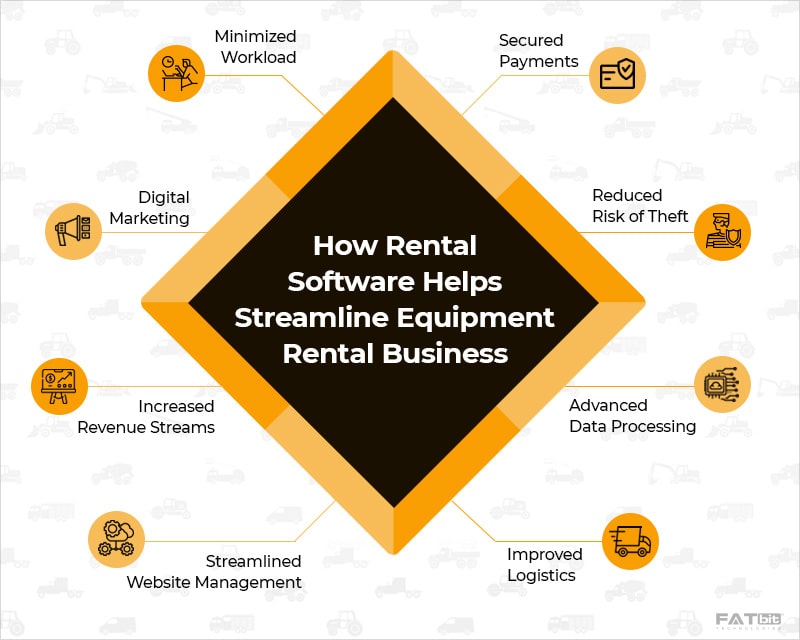 Minimized Workload
Rental software automates price calculations, billing, payment collection, reporting, reminders, subscription renewals, communication, product visualizing, backup & restore, etc. This increases the overall productivity of the business while minimizing the workload. Reduced salary expenses on employees is a consequent benefit.
Secured Payments
Several payment protection protocols are integrated on a rental software that enable safe and secure payments for an equipment rental business. Moreover, the various types of gateways and the type of integration (hosted or self-hosted) further reinforce the safety of the payment system.
A payment gateway can also support various payment options such as electronic bank transfers, eWallets, credit cards, debit cards, finance and digital currency.
Reduced Risk of Theft
Rental equipment is at a high risk of being stolen/lost by the customers of an equipment rental business. Rental software negates the risk with several features such as automated logging and GPS tracking, making it much safer for the business to rent out equipment to distinctive customer segments.
Advanced Data Processing
Consumer data, such as name, address, billing address, organization, rental date, payment info, etc. are all stored on a cloud when using a rental software. The business can access this data anytime for data analysis and various other purposes such as marketing and enhancing sales journey. Rental software also process data in real-time, eliminating the need for manual logging.
Improved Logistics
It is easier to log and maintain inventory on a rental software. Business owners can track the delivery of equipment or calculate the returned inventory later at the end of the rental period with ease. Third-party integrations such as Aftership also assist the owner in managing the delivery of lightweight and handheld equipment. Similarly, the location of equipment in different store rooms can also be stored on a rental software.
Streamlined Website Management
Rental software provides the option to create a web storefront or multiple storefronts on a marketplace. Along with this option, the software also provides advanced features for overall website management. These features include dedicated dashboards for customers, vendors or marketplace owners. Multi-user CMS enables smooth homepage, inner pages and catalogue management. Some software support multiple sub-admin accounts to assist the business owner in overall management.
Increased Revenue Streams
Modern technology enables various web-based revenue streams for online businesses. These include subscription packages, PPC campaigns, display ads and more along with the traditional .rental fee and commission. For more reference, check the business model canvas diagram in the guide.
Digital Marketing
The global penetration of the internet and increase in smartphone devices and computer technology call for smart digital marketing solutions. Strategies like SEO, PPC, affiliate marketing, email marketing and social media marketing are essential in the 21st century and there are various software tools available for their implementation. Modern rental software also support several marketing features. While some are pre-integrated, others can be added with the help of TPIs (third-party integrations).
Marketing an Equipment Rental Business
Light and heavy equipment are standard utilities associated with certain B2B markets. They do not greatly concern the general consumers. This raises the challenge of devising a strategic marketing model that can accurately target the most potential customers across B2B dominated marketing channels. Also, considering the consumer segment to be a small subset of internet users, an equipment rental business calls for an equally balanced marketing approach, which is dependent on both traditional and modern digital marketing methods.
Branding
Effective branding helps a company develop a certain image with which it is perceived by its customers, competitors and the general population. Proper branding gives credibility to a brand, makes it stand out from the diversity and ensures image consistency across all marketing channels. Basically, branding is what differentiates a determined well-established organization from an unorganized business.
Branding strategies involve the design and development of logos, trademarks, website and email address that make it easier to recognize a business. Some other branding techniques include the preparation of:
Business Networking Events
Equipment rental business owners and representatives are advised to attend various business networking events, such as trade shows, product launches, seminars, award ceremonies, etc. These will introduce their venture to more and more people and assist in making fruitful business connections. Another important reason to be a part of business networking events or host one is the exposure to like-minded professionals and acknowledgment of the equipment rental business as a potential rival by key competitors.
Business networking is also one of the few B2B marketing strategies that focus on accomplishing industrial recognition instead of targeting customers.
Search Engine Optimization (SEO)
Search engine optimization assists a business in appearing at the top position of search engine result pages (SERPs). In SEO, the position of a webpage for particular search terms (keywords) is called ranking and higher rankings ensure better visibility to internet users. To provide these rankings, search engines measure the relevance of these search terms and the completion of the user's search intent on a web page. Several algorithms help search engines determine keyword relevancy.
SEO is further divided into two types:
On-page SEO
According to BrightEdge, 53% of all trackable website traffic comes from search engines. On-Page (On-SIte) SEO improves a webpage's ranking by making changes and adjustments directly on the website. It focuses on keyword positioning,relevancy of the content,UX and website speed. On-Page SEO makes your website trustworthy for search engines and ensures higher rankings for the future. Not to mention that the top three URLs on a SERP receive the highest number of clicks.
On-Page SEO Techniques:
Off-Page SEO
Off-Page (Off-Site) SEO refers to those activities that take place on third party websites and impact rankings. They change the public perception of a website, make it sound more reliable, safe and authoritative. In the ecommerce industry, backlinks generated from other websites act as references. They help in lead generation and spread awareness about the website. Some other important aspects of Off-Page SEO include business listing, content marketing and blogging.
Off-Page SEO techniques:
Social Media Marketing
Various social media platforms are developed for business professionals. The most important one of them is LinkedIn where prominent business owners and entrepreneurs sign up. It is also the first place people search to connect with other business persons and key figures of an organization. An equipment rental business can create a LinkedIn page to improve online presence, especially amongst business-related contexts.
Other than LinkedIn, there are several social media platforms that can be used for promoting an equipment rental business, such as Facebook, Twitter, Instagram and Pinterest. Google experts suggest using social media as a channel to engage with customers and not specifically hardsell products. This means the publishing of high-quality content should be the first concern of a business followed by sales, branding and other goals.
All popular social media platforms provide an analytics feature to businesses to help them track their reach, segment followers with attributes like demographics and location, and increase engagement. With third-party social media management apps like Buffer and Hootsuite, businesses can pre-schedule posts and download comprehensive reports. Based on the actionable insights provided in these reports, marketing executives can devise several marketing campaigns for business promotion.
Content Publishing
Content is of various types and can be published on different online and offline channels. Good content persuades customers towards conversions and completes the marketing funnel. Other benefits of content publishing include a reputation boost, demonstration of industrial expertise and increase in reliability. In layman terms, publishing unique and insightful content assists in both - increasing sales and establishing trust-building elements.
Online Forms of Content Publishing
Blog: A blog is an informative article uploaded on the internet as a web page. With keyword optimization, blogging assists in improving search engine rankings.
Press Releases: Press releases are a quick and formal way to convey business information, such as announcements, product launches, service expansion and entrance to new markets.
Guest Posts: Guest posts are blogs that are published on third-party websites. They help in receiving backlinks and building website credibility.
eBooks: eBooks are short online books published either in webpage, EPUB or PDF formats. They contain massive amounts of information on a particular topic.
Landing Pages: Landing pages are the web pages where internet users reach at the end of a marketing or advertising campaign.
Infographics: Infographics are visual representations of information that are easy to skim and comprehend. Their purpose is to simplify complex information and make it easier to understand.
Case Studies: Case studies are works of a company on previous projects. They highlight the major challenges of the project and what the company did to overcome them.
Q/A Forums: Industrial question/answer forums are a great way of showing brand knowledge and expertise.
Whitepapers: Whitepapers are in-depth guides revolving around complex problems and their solutions
Offline Forms of Content Publishing
Newspaper Articles: Newspaper articles are efficient at targeting local as well as older audiences.
Business Magazines: Business magazines highlight industrial expertise and provide a competitive edge to business owners. (Read more about them in section Off-Page SEO )
Product Catalogues: Product catalogues improve product awareness and inform readers of the product line.
Biographies: Business biographies are a popular book genre amongst entrepreneurs. They are suitable for equipment rental businesses that gain quick popularity after launch.
Business Collaterals: Business collaterals refer to marketing material that uses various forms of media, such as pamphlets, posters and flyers.
Advertising
Various forms of advertising can be used for marketing and promotion of an equipment rental business.
With modern advertising channels, businesses can target specific audiences and use analytics for evaluating the performance of advertising campaigns. Like content publishing, advertising can be also split into online and offline modes.
Online Advertising
Offline Advertising or Print Ads
Newspaper AdvertisingNewspaper advertisements are one of the oldest known forms of print advertising. They are a quick way to reach an entrepreneur audience by targeting ads in business newspapers specifically. Unlike online advertisements, newspaper ads are easy to set up and do not require consistent monitoring. Equipment rental businesses also get the option to position their ads on various pages depending on budget and the cost of snippets.
Magazine AdvertisingBusiness magazines are delivered weekly, bi-weekly or monthly to entrepreneurs. To ensure their advertisements reach the correct audience, equipment rental businesses are required to make suitable magazine selection. For example, advertising in construction and mining industry magazines. Along with targeting potential customers, magazine advertisements improve branding. The more reputed the name of a business magazine, the better it is for the equipment rental business' brand image.
Collateral AdvertisingCollateral advertisements campaigns can be executed at various levels, such as before the launch of a product or while hosting a business networking event. Collateral advertisements are of various types such as pamphlets, posters, billboards and banners. They look attractive to general eyes and are often positioned at places where they easily distract the public and get viewed. For example, billboards, notice boards and road signs at construction sites.
Affiliate Marketing
In B2B affiliate marketing, renowned people of the industry or those with important business connections find leads for equipment rental businesses. However, affiliate marketing requires businesses to provide strong motivations to their affiliate partners in the form of incentives such as a percentage commission or a lump sum amount. Basically, the affiliate becomes an intermediary between the business and customer, and carries out its own marketing campaigns to secure leads. This assists the equipment rental business in reducing its marketing efforts.
It is essential in affiliate marketing for the business owner to formulate a partnership agreement to be signed between the owner and the affiliate partner. This agreement should mention all the incentives beforehand along with the partnership duration and performance estimations. Separate documentation regarding the sales cycle and business product line or services can be prepared to assist the affiliates in launching effective marketing strategies.
Internal Marketing
Internal marketing is a marketing concept that focuses on aligning the brand vision and mission of a company with its own employees so that they can provide better value to potential customers. As a result, employees develop the same attitude towards the company as the owner himself. This improves their work enthusiasm, productivity and resourcefulness.
With a proper understanding of the business objectives and goals, employees are able to reflect the same on the customer and establish a better brand image. Employees improve the overall customer experience, which in turn increases satisfaction and conversion rates.
Some of the internal marketing tactics that equipment rental businesses can execute are:
Create programs to educate employees on the company's brand image and values
Update employees on product line and services
Establish department-to-department communication instead of top-to-down
Stay open to intra-company criticism
Incentivise employees for exceptional performance, such as bringing and capturing lucrative leads
Build an optimistic and employee-centric work culture where employees can foresee personal growth
In B2B businesses, internal marketing remains imperative considering the limited scope of verbal communication between the target audience and sales staff. With educated, motivated and well-informed employees, equipment rental businesses can leave a strong first impression and improve client retention rates. The aligned mindsets of the owner and employees contribute collectively towards growth and expansion.
Retargeting
Retargeting involves catching up with those potential customers and leads that came close to conversion but did not convert. It is also used to target old customers of an equipment rental business. For retargeting-marketing campaigns to work, businesses need a system to monitor their sales and customers, for example, email address of every customer or phone number.
Some digital marketing channels, such as social media platforms, already provide tools to retarget potential customers. With these tools, equipment rental businesses can advertise to their lost customers again. Similarly, on a website that collects email addresses, it is possible to send reminder emails and set up email marketing campaigns.
In traditional or offline marketing, retargeting is possible by offering lower quotations to customers and flexible payment options, such as financing and milestone payment. Introducing loyalty programs are also an efficient way to retarget old customers and improve client retention.
How Yo!Rent Assists in Launching an Online Equipment Rental Business
About Yo!Rent
Yo!Rent is an ecommerce rental software developed by FATbit Technologies after thorough research into the rental economy. It mitigates various pain points of rental businesses, such as the complex pricing mechanics, irregular inventory flow, overrun due dates, inefficient equipment tracking and maintenance. With the help of Yo!Rent, entrepreneurs can launch an online multi-vendor equipment rental business where along with renting out their own equipment, entrepreneurs can also allow other businesses to sign up and rent out their products.
Although Yo!Rent is a readymade solution and is inclusive of all essential features required to start an online rental business, it is also fully-customizable to accommodate the varying needs of small and large size businesses. It is not just the online storefront that makes Yo!Rent an ideal solution to launch an equipment rental business, but it is its backend control system that has been divided into three different interfaces:
Admin Dashboard: This is the interface to be used by the equipment rental business owner or his representatives. The admin dashboard includes access to all main features like catalog management, content management, sales reports, renter/customer accounts and promotions. These features allow the business owner to manage and exercise control all over the website.
Renter (Vendor) Interface: The renter interface is for the third-party businesses that sign up on the website to lend their equipment. It includes features like inventory management, order management, sales reports, export/import catalogue and more.
Customer Interface: On customer interface, customers can see all their existing and previous orders. They can also use this interface to cancel orders, return equipment or extend rental duration.
Note: Instant demos for admin, vendor and front-end interfaces are available on Yo!Rent's official website. These demos do not require visitors to provide their emails or sign up and are fully-interactive.
Yo!Rent also comes with unlimited user accounts and product listings to make the website scalable along with the growth of business.
Operations Workflow on Yo!Rent
Key Features of Yo!Rent
Advanced Booking Calendar: Without verbal or chat communication, it is difficult for equipment rental businesses to collect information regarding the customer's desired rental period. Yo!Rent's advanced booking calendar resolves this problem by allowing customers to precisely select a rental period on the product page itself.
In-built Rental Invoicing: Bulk invoicing is complex in rental operations. This is due to the varying pricing of products and rental duration. Yo!Rent automates invoicing, saving the equipment rental business a lot of manual invoicing troubles.
Rental Buffer Period: Returned equipment cannot be immediately rented out without a proper inspection and in some cases even maintenance. To adjust this inspection and maintenance period, Yo!Rent comes with a rental buffer period. When an equipment is in the buffer period, it cannot be added into the cart. Once the buffer period is over, the equipment is automatically added to the inventory and can be rented again.
eSign and Agreement Management: Large B2B operations require tedious agreement management and may involve two parts to sign various contracts. On Yo!Rent powered platforms, the vendors can use the eSign feature and manage the paperwork on the database itself.
Request for Quote Module: Due to the nature of some equipment, such as spare parts, add-on products or customizable equipment, it is difficult for equipment rental businesses to charge a fixed pricing. The actual payment can vary on several unforeseen factors. For such equipment, Yo!Rent comes with a Request for Quote module where customers can contact the vendor before booking.
Document Verification: Document verification feature on Yo!Rent allows equipment owners/marketplace owner to verify the valid license of customers required to operate the equipment. This feature is most useful while renting out equipment like dozers, backhoes and excavators.
Price Surge Module: A feature in Yo!Rent to increase the rent of a particular equipment for a limited time period based on peak days, weeks, hours and sessions.
Multi-Purpose file Attachments: Some equipment require businesses to provide proper documentation and manuals. Yo!Rent supports multi-purpose file attachments to upload documents like size charts and user-manuals on the product page itself.
Multi-Currency and Multilingual: Yo!Rent is multi-currency and multilingual to support cross-border business operations.
Multiple Payment Gateways and TPI Support: Yo!Rent comes with 15 pre-integrated payment gateways. It also supports third-party integrations such as MailChimp, AfterShip and Salesforcel for extended functionality and features.
Renting & Selling option: Along with the option to lend equipment, Yo!Rent also comes with the option to sell products, which can be switched on for each equipment individually. Thus, providing an additional revenue stream to the business owner. Furthermore, both renting and selling options can be activated simultaneously on Yo!Rent for each equipment.
Case Study
GearFlow is a heavy equipment rental marketplace powered by Yo!Rent. It connects various contractors and construction companies with OEM manufacturers and equipment traders to ensure a smooth supply of rental heavy equipment. Launched in the year 2018, GearFlow was able to raise a seed funding of $1 million. For extending business operations, Yo!Rent team also integrated the option to turn on equipment sales as per the business owner's discretion. You can check the full case study of GearFlow on Yo-Rent.
Customer Support
Yo!Rent provides one-year of free technical support to all its clients. This ensures smooth business operations especially at startup level.
Visit Yo!Rent to find more info or contact our industry experts to discuss your requirements.