The equipment rental industry is one of the fastest growing segments of the rental economy thanks to an uptick in the number of industrial, commercial and residential projects. Most of the salient benefits of rental hold truth across the wider construction equipment industry. No upfront cost, storage and transportation expenses, yet immediate access to the most cutting edge machinery are just a few advantages that users of heavy equipment enjoy in a rental business model. Then, there's the environmental appeal to the idea of rental in the form of reduced waste of non-renewable resources. It's for a combination of these factors that the construction equipment rental market is expected to grow at 4.5% between 2021 to 2027 and reach a whopping $150 billion mark.
In this blog, we'll be taking a look at some of the most popular and in-demand construction or heavy equipment rentals. Having the right knowledge about different types of equipment is quite important to simplify and expedite the process of any construction or maintenance project. The following guide will help the reader understand the mechanics of top 10 construction and earth moving heavy equipment along with their chief purpose and application.
Types of Heavy Construction Equipment
1. Excavators
As the name implies, excavators are primarily meant for excavation related activities. But due to their versatility, they're also brought to use in purposes like heavy lifting, demolition, tree shredding, river dredging etc. Excavators contain a cabinet, boom, stick and bucket. Additionally, excavators can also be outfitted with hydraulic powered attachments like grapples, breakers or augers. The cabinet, where the machine operator sits, is rotatable up to 360 degrees. The undercarriage can be outfitted with both wheels or tracks.
2. Backhoe
Backhoe is yet another widely used heavy equipment that gets its name mainly from its mechanical arrangement; the hoe part of the vehicle is outfitted on the backside while the loading bucket is fitted in the front. This set-up proves useful in excavating trenches below the machine level, while the front bucket is great for loading, unloading and lifting earth or other material.
3. Bulldozers
Bulldozer is chiefly a soil excavating equipment, which is ideal in scraping the topsoil layer up to a desired depth. The scraping is done by a wide, sharp edged metal plate fitted at the front of the vehicle. The plate can be maneuvered up and down using hydraulic pistons. Bulldozers are mostly used for removal of weak soil or rock strata, or soil lifting etc.
4. Motor Graders
Motor graders or simply called as graders are a special type of equipment that are used in construction activities, especially those of roads. They are particularly useful in leveling the soil surface. Graders contain a horizontal blade fitted between the front and rear wheels, which can be lowered during ground operations. The operator cabinet is fitted on the top of the rear axle arrangement. These machines are also used in clearing snow or dirt off roads, to flatten the soil surface before laying asphalt, or simply remove excessive soil from ground etc.
5. Telehandlers
Telehandlers are basically hoisting equipment that are used in construction sites for chiefly two purposes – 1. Lift heavy material up to required heights 2. Provide a construction platform to workers at greater heights. It consists of a long telescopic boom that can be raised, lowered or forwarded. Telehandlers are quite versatile in that different types of arrangements like forklifts, cabinets, buckets, lifting jib can be attached to telescopic boom's end as per the requirement of operation.
Recommended Read: The Rise of Online Construction Equipment Rental Industry
6. Dump Trucks
Dump trucks are primarily used in construction to carry different types of material in large quantities from one site to another or deposit in the dump yard. Off-road dump trucks are more common at major construction sites. These trucks consist of large-sized wheels with ample space for storage, enabling them to carry out the job in virtually all ground conditions.
7. Compactors
Compactors, also known as rollers, are used to compact the earth surface or various other types of materials. Compactors come in a huge variety of types and sizes to serve different compacting purposes. Smooth wheel rollers are the preferred choice for compacting shallow layers of soil or even asphalt. For deep compaction purposes, sheep-foot rollers are brought into use. Then there are the Pneumatic tyred rollers that are used to compact fine grained soil, asphalt layers etc.
8. Loaders
Loaders as the name suggests are used to load material such as excavated soil, debris, raw material onto dumpsters or trucks at construction sites. Loaders consist of a large sized bucket at the front with a shooter moving arm. They can be outfitted with tracks or wheels depending on the nature of the terrain or site.
9. Tower Cranes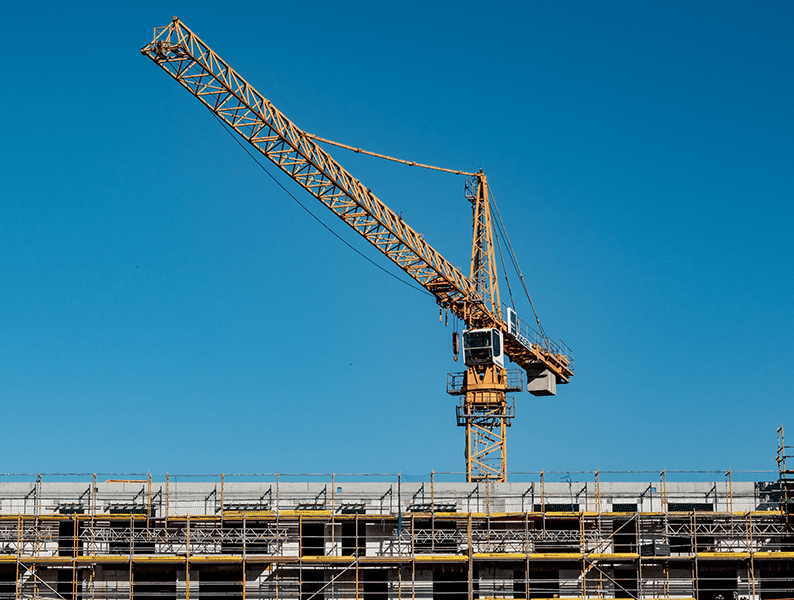 Tower cranes are fixed cranes that are used chiefly for hoisting purposes in constructing tall structures. Heavy materials such as pre-stressed concrete blocks, frames, steel trusses etc. can be easily lifted to required heights using these towered cranes. They consist of a mast, which acts like the vertical supporting tower, a Jib, which is the operating arm of the crane, a counter jib, which is the other arm that carries counter weight on the rear side of the crane, and an operator cabin, from where the crane can be operated.
10. Trenchers
Trenchers, as the name implies, are machines that are used to excavate trenches in soil. The purpose of trenches varies anything from pipeline laying, cable laying, or drainage etc. Trenching machines come in two types viz chain trenchers and wheeled trenchers. In the case of chain trenchers, a digging chain is provided around a fixed long arm. On the other hand, wheeled trenchers contain a metal wheel that has a digging tooth around it. Wheeled trenchers are preferred when it comes to excavating hard layers of soil.
How Yo!Rent Pivoted a Heavy Equipment Business to New Heights
Final thoughts
We hope the information provided in this blog was useful to you in understanding the scope and application of different types of heavy equipment. We are excited about the growth of the online construction and heavy equipment market and the opportunities it has to offer to entrepreneurs who have stakes in this market.
For businesses currently operating in the heavy equipment rental market, we offer a readmady solution – Yo!Rent, to fully automate their rental operations. Yo!Rent is a fully customizable, scalable and versatile equipment rental software that can be configured to suit varied requirements. You can explore Yo!Rent's technical demos to get an insider-view of the solution. For more information, get in touch with our dedicated team of professionals.